Ju Hachi offers a variety of japanese cuisine, even for the very picky customers! Our Chefs use simple condiments often add to enhance the flavors. Light dipping sauces, citrus, miso, wasabi, pickles, and soy sauce included with the course. Check out our menu online or come in for a Japanese Lunch Special or during evenings for a delicious dinner.
Ju Hachi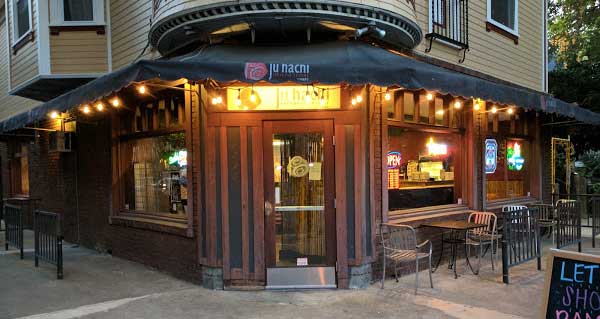 You are invited to explore the best of Japanese cooking at Ju Hachi Sacramento. Whether it's a selection of super fresh sushi or sashimi served at the counter or a bouquet of dishes accompanied by elegant sake and wine, you'll find our restaurant a haven of traditional design with a modern ambiance.Ju Hachi Restaurantuses fresh local produce along with imported specialised Japanese ingredients to give an authentic and pure experience. Most of the fish we use are locally sourced, nothing from sea life aquarium. We have a playful, yet respectful approach to Japanese cuisine with a lightness of touch and inspired flavour combinations.The menu is a showcase of our chef's creativity with imaginative dishes and exciting flavour combinations. As well as sushi you'll find carpaccio's, steamed dumplings, salads and cervices.Ju Hachi Japanese Sacramento serve high-quality, fresh food based on a unique combination of traditional sushi and yakitori sticks from the grill. So, for those less keen on fish, there is a selection of chicken, pork, beef and vegetable skewers - all grilled fresh to order.At Ju Hachi we serve the finest Japanese cuisine, sushi with a big range of Japanese options. If you love to eat Asian food and enjoy exploring food, culture, and culinary traditions of Japanese food, Ju Hachi should be at the top of your bucket list. At Ju Hachi order online or dine in and chose from large selection of authentic Japanese lunch and dinner menus at affordable prices. Our chefs work with top quality ingredients and do as little to the food as possible to bring out the colour and flavour. Come join us anytime for an exquisite sake and sushi selection along with a modern influenced, traditional take on Japanese cuisine.Every visit is a unique and immersive dining experience – we are a restaurant that cooks in front you. Discover our range of delicious dining collections.We aim to make your visit to Ju Hachi Restaurant both memorable and unique.
Accessibility
Ju Hachi Sacramento is committed to the accessibility and usability of its website, juhachisacramento.com, for all people with disabilities. With that, our restaurant has implemented the relevant portions of the World Wide Web Consortium's Web Content Accessibility Guidelines as its web accessibility standard to the greatest extent feasible. Please be aware that our efforts are ongoing. If at any time you have specific questions or concerns about the accessibility of any web page on our website. If you do encounter an accessibility issue, please be sure to mention the specific web page in your email, and we will do our best to make that page accessible for you If you have questions or need any assistance with obtaining our products or services, please call us at (916) 448-3481 during our regular business hours.